About
<![if !vml]>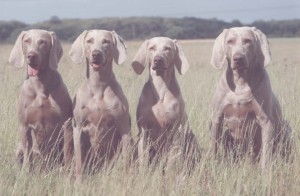 <![endif]>
Photo by Nick Ridley
Our association with the weimaraner breed started early 1989, when we purchased our first grey bundle KES - BRIONY DONNA BELLA. We wanted an energetic dog that would suit our life style and love of walks in the countryside, Carl also wanted a shooting companion and the weimaraner copes admirably as a rough shooters dog and works well in the beating line. Since Kes arrived weve been hooked, lifes never been the same since. Kes proved to be an exceptional little working bitch and was regularly invited on many shoots across Norfolk and Lincolnshire. During our short stay in Scotland she had the privilege of working on the Glamis Estate, Although neither of us are very competitive Carl entered Kes in a Novice field trial in 1991 with the GSP Club, and their first attempt won them the trial. This win gave her a KENNEL CLUB STUD BOOK NUMBER.
Also in 1991 we bought in another weimaraner bitch, ROBBIE - FLEETAPPLE ROBINIA from Di Arrowsmith, she was very biddable and loved to work as her lines suggested, predominately Ragstone breeding and her grandfather until just recently was the breeds only FT Champion.
In April 1993 the Kennel Club granted us with our chosen affix FORGUN and we mated Kes to Sh Ch Vedanta Vice of Akateze, the litter produced 6 puppies ( 5 dogs & 1 bitch) we wanted a bitch so no headache trying to pick the best bitch, FAY - FORGUN FACE VALUE stayed with us, she was worked on local shoots, and was shown with some success by Chris, she had some great puppy wins, and attained 1 CC and a RCC. Other commitment's at that time prevented us from showing her further.
ROBBIE - FLEETAPPLE ROBINIA produced 2 litters for us, and from her second to Ch Monroes Assatis we kepted a dog DEISTER - FORGUN FIFTY FIVE.
We had 2 litters from FAY - FORGUN FACE VALUE, the second litter was by Sh Ch Khamsynn Cool for Cats JW, from this litter we kept another bitch JINNY - FORGUN FUTURE QUEST and her sister MATTIE - FORGUN FUN to RUN joined the well known Khamsynn kennel , she was shown extensively in the UK and received her KENNEL CLUB STUD BOOK NUMBER and 2 CHALLENGE CERTIFICATES, one of which was received at THE WEIMARANER CLUB OF GREAT BRITAIN'S 50th Anniversary Championship show, a very memorable day, both of these Challenge Certificate's interestingly enough were from overseas judges. She has a son who was bred by Adrian & Lesley Rutland, in SH CH Khamsynn Call My Bluff JW Sh CM at just under 3 years old, with many awards to his name, lovely to think Mattie - FORGUN FUN TO RUN with KHAMSYNN had a paw in the proceedings.
DEISTER - FORGUN FIFTY FIVE, was trained to the gun as a youngster and took over from the 2 older girls Kes & Robbie once they had retired, as Carls number one shooting companion. He was used several times at stud, and notably over in Holland were through A1 a litter of 6 ( 3 dogs & 3 bitches) were produced for the 'Of Weimars Joy' kennel out of a lovely American bred bitch Windy - Lux Sh Ch Grayshar Windsong on the Rise, most of them grew on and received working certificates with the Dutch Weimaraner Club, and Rainy - Bright Rain & Gale of Weimars Joy owned & bred by Jur & Yvonne Dekkers received a diploma for the Austrian VGP (Master Test) another of his offspring owned by Machteld van der Linden was Mara who was made up to Ned/Lux & Int Ch Baroness Mara of Weimars Joy, wonderful achievements.
JINNY -FORGUN FUTURE QUEST was shown a little as a youngster, had qualified for Crufts on a couple of occasions, has passed her Kennel Club Good Citizens Bronze award, tried her paw at Agility, out with Carl in the shooting season, and had even returned to the show ring as a veteran and qualified for Crufts 2009, Jinny had just one litter in 2003 to Deister another bitch stayed at home with us in RUNE - FORGUN FEMTIO FEM a lovely small silver grey package, a keen little hunter, very biddable like her grandmother, has taken her KCGC Bronze, Silver & Gold awards, and just recently a Kennel Club WGC (working gundog certificate) for pointing breeds with the HPRBA (hunt point retrieve breeds association) results for the day can been seen on the HPRBA website.
From the KHAMSYNN kennel we brought in a litter sister to Sh Ch Khamsynn Call My Bluff (Cato), we called her Maisy kennel name Khamsynn Crystal Maze in FORGUN, shown with moderate success as a puppy, and in 2008 obtain her Kennel Club Stud Book Number. Has past her KCGC Bronze , Silver and Gold awards , she is shown sparing now, and will mainly support the breed Clubs Championship and Open shows. We will keep the site updated now with our dogs progress on the news page.
In the time we have been involved with the breed we have bred only 6 litters as we only bred when we wanted to keep a puppy ourselves. We are members of THE WEIMARANER CLUB OF GREAT BRITAIN, and THE WEIMARANER ASSOCIATION, and most recently the HUNT POINT RETRIEVE BREEDS ASSOCIATION and The Slovakian Rough Haired Pointer Club and abide by all clubs CODES OF ETHICS.
We are very proud of our small but significant achievements and hope you enjoyed our potted history so far here at FORGUN.
Carl & Chris Issitt